American Board of Plastic Surgeons – Certification by the ABPS represents the culmination of many years of education and training. Furthermore, certification by the ABPS distinguishes Dr. Weinfeld as a board certified plastic surgeon. While other "plastic" and "cosmetic" surgery boards have subsequently developed, The American Board of Plastic Surgeons was the first board of its kind related to the field of plastic surgery. The ABMS is also the only plastic surgery related board that is a member of the prestigious American Board of Medical Specialties. Thus, in an environment where many physicians and surgeons wish to be perceived as plastic surgeons, ABPS certification demonstrates a commitment to the safe, ethical, and efficacious practice of plastic surgery. Dr. Weinfeld scored in the 94th percentile when he took his oral boards for certification.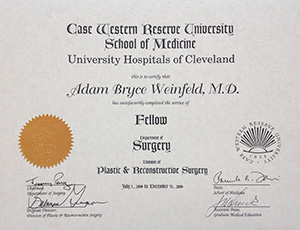 Case Western Reserve Medical School Aesthetic (Cosmetic) Surgery Fellowship – Dr. Weinfeld completed a cosmetic surgery fellowship with master plastic surgeon Bahman Guyuron, MD. The focus of this advanced cosmetic surgery fellowship was rhinoplasty, revision rhinoplasty, facial rejuvenation (facelift, necklift, blepharoplasty, browlift, facial resurfacing, fat grafting), and surgical management of migraine headaches.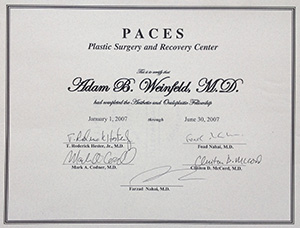 Paces Plastic Surgery Aesthetic (Cosmetic) Surgery Fellowship – Dr. Weinfeld was fortunate to have been educated by three famed plastic surgeons (Mark Codner, MD, Foad Nahai, MD, and T. Roderick Hester, MD) during this exclusive fellowship. The focus of this fellowship was cosmetic surgery of the face, breast, and body.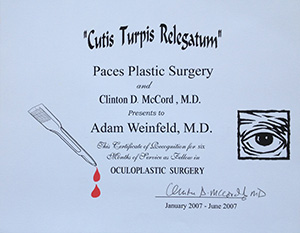 Oculoplastic Surgery Fellowship – Simultaneous to the Aesthetic (Cosmetic) Surgery Fellowship at Paces Plastics Surgery, Dr. Weinfeld completed an Oculoplastic Surgery Fellowship. Oculoplastic Surgery is a field dedicated to cosmetic and reconstructive surgery of the eyelids and surrounding tissues such as blepharoplasty and browlifts. It is very rare for plastic surgeons to have additional training in oculoplastic surgery, thus this distinction makes Dr. Weinfeld a rarity in his field and permits him to bring an extra level of experience to patients desiring cosmetic improvements to theirs eyes. His fellowship directors were Dr. Clinton McCord, Jr. and Dr. Mark Codner, two giants in this field and editors of the textbook Eyelids and Periorbital Surgery.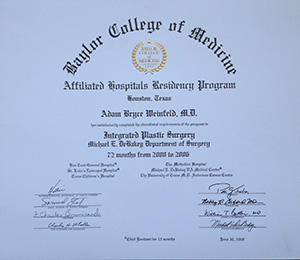 Residency Certificate Plastic and Reconstructive Surgery Baylor College of Medicine – Dr. Weinfeld completed his residency training in Plastic and Reconstructive Surgery from Baylor College of Medicine Affiliated Hospitals. At the time Baylor was considered by many in the field to be a top 5 residency training program out of over 6o programs nationwide. This sentiment was born from Baylor's strengths in clinical education and research focused on advancing the field of plastic surgery in areas of quality and safety.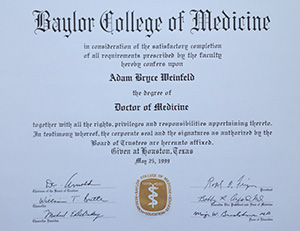 Baylor College of Medicine Medical School Diploma – Dr. Weinfeld graduated from Baylor College of Medicine (Houston, TX) in 1999. At the time that he enrolled at Baylor, it was ranked as the 11th Medical School in the nation (out of over 200 medical schools) by the magazine U.S. News & World Report. Dr. Weinfeld specifically chose Baylor for medical school because it had a strong reputation for plastic surgery education and research. He knew from the age of 12 years old that he would be a plastic surgeon and remained very focused on the goal from that point forward.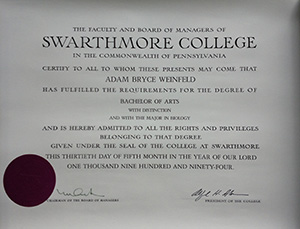 Swarthmore College of Medicine Diploma – Dr. Weinfeld graduated from Swarthmore College with a major in Biology. Swarthmore College is a highly competitive college outside of Philadelphia. Swarthmore College was ranked by U.S. News & World Report as one of the top three best colleges in the country (out of thousands of schools) for all four years Dr. Weinfeld attended.