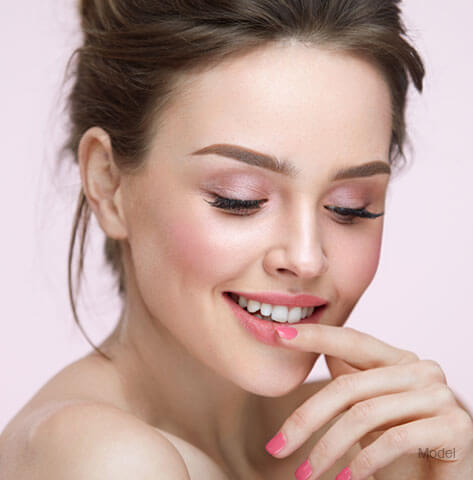 JUVÉDERM® is a dermal filler used by plastic surgeons to add volume to various parts of the face. It is comprised of hyaluronate a substance naturally found in various tissues in the human body. JUVÉDERM® is well suited to soften deep folds and lessen the appearance of wrinkles. Both young and older women can benefit from JUVÉDERM® when a customized approach is used.
One of the most frequent areas treated by JUVÉDERM® is the nasolabial folds, the linear depressions that separate the cheeks from the upper lip and extend from the lower edges of the nose to the corners of the mouth. Smaller wrinkles can also be addressed such as fine lines around the mouth. JUVÉDERM® also has significant utility in other regions of the face due to its ability to add precise amounts of volume to areas that lack fullness and contour. These areas include the tear-trough and nasojugal fold among others. Innovative use of JUVÉDERM® includes placement beneath the eyebrows to give a fuller look to the tissue above the eye and into the chin for a subtle augmentation in the case of a weak chin.
The results of JUVÉDERM® can be enjoyed for 6 to 9 months depending on a variety of factors.
In my experience, some patients desire JUVÉDERM® for cosmetic challenges that are not likely to respond favorably to fillers (and therefore may be better addressed by surgery). While fillers are less expensive than surgery, the money spent on them is not a value if the result is not a meaningful and natural one. I am always honest with patients about whether I think they will benefit from a filler and whether they are truly getting value for their money.
Get In Touch
Patients respond to Dr. Weinfeld's expertise and caring patient focused approach. If you have any questions about a procedure or are ready to schedule a consultation, please call or fill out the form below.
---
---
Address
This facility is only for cosmetic and non-insurance based procedures. If you seek insurance based treatments or reconstructive procedures, please search for Dr. Weinfeld in his other facility.
Phone: 512-559-1376
---
Connect with us