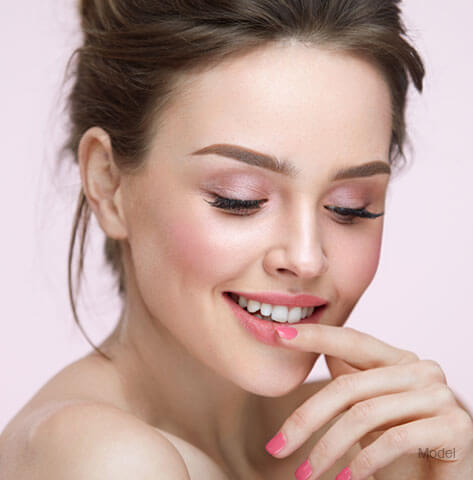 BOTOX® Cosmetic is a neuromodulator that is injected beneath the skin to target underlying muscles of facial expression. BOTOX® Cosmetic selectively, precisely, and temporarily weakens these muscles to decrease their contraction. By decreasing the contraction of these muscles, the dynamic wrinkles caused in the overlying skin are reduced. The most common region for injection of the BOTOX® Cosmetic to reduce wrinkles and lines is the glabella. The glabella is the anatomic term for the lower part of the forehead that lies between the eyebrows just above the nose. Many people refer to the lines in this area as "eleven (11) lines."
Most providers require 4 to 5 needle sticks and 20-30 units of BOTOX® Cosmetic in this area to achieve the desired results. Often, I use a "limited needle stick" approach to injecting BOTOX® Cosmetic in this region. In a sense, one could think of this as a "Mini" BOTOX® Cosmetic injection. This advanced technique involved precisely inserting one of the thinnest medical needles along the length of the target muscle, the corrigator supercilii. Thus, there is only one needle stick per side for a total of two. This can be contrasted to the traditional approach in which again generally involves 4 to 5 needle sticks. Besides the apparent obvious benefits of fewer needle sticks and potentially the need for less BOTOX® Cosmetic (and thus less expense per area), additional hypothetical pluses observed in some patients include less swelling, less bruising, and less pain.
Please note until further notice, I will only be able to distribute BOTOX® Cosmetic in increments of 50 to 100 units. Thus, most patients choose to have a comprehensive treatment plan, focusing on other regions in addition to the glabella.
Get In Touch
Patients respond to Dr. Weinfeld's expertise and caring patient focused approach. If you have any questions about a procedure or are ready to schedule a consultation, please call 512-324-2765 or fill out the form below.
---