Face Gallery
Back To Galleries
Eyelid Lift 03




Description:
Description:
Procedure: Upper Lid Blepharoplasty, Open Sky Technique
Patient Story
This patient is a women in her late fifties who wanted to look more energetic, refreshed, and somewhat younger. She started the consultation with Dr. Weinfeld (Austin, Texas) by stating that she did not feel she was ready for a facelift yet and needed a procedure that allowed for a very quick recovery. She identified her upper eyelids as the area of greatest concern. She elected to undergo an upper lid blepharoplasty (referred to as a "upper lid lift" by the general public) with local anesthesia only. She reported the procedure itself and the recovery had far less discomfort than she expected. Given that the procedure was performed under local anesthesia she had minimal bruising and swelling. She returned to work almost immediately after the procedure.
---
Eyelid Lift 04




Description:
Description:
Procedure: Upper lid blepharoplasty, Open Sky Technique
Patients Story
This patient is a young woman who came to know Dr. Weinfeld as a patient undergoing breast reconstruction for breast cancer. Due to her positive interaction Dr. Weinfeld she sought a Cosmetic Surgery consultation for peri-orbital rejuvenation. The patient's primary goal was to correct excess upper lid skin, known as dermatochalasis. After a discussion it was determined that the best solution would be upper lid blepharoplasty. The result has removed the excess skin and eliminated lateral hooding. This was achieved without hollowing out the upper lid thus leaving her upper lid somewhat full, a characteristic of youthful eyes.
---
Eyelid Lift 05

Description:
Upper lid blepharoplasty
---
Eyelid Lift 06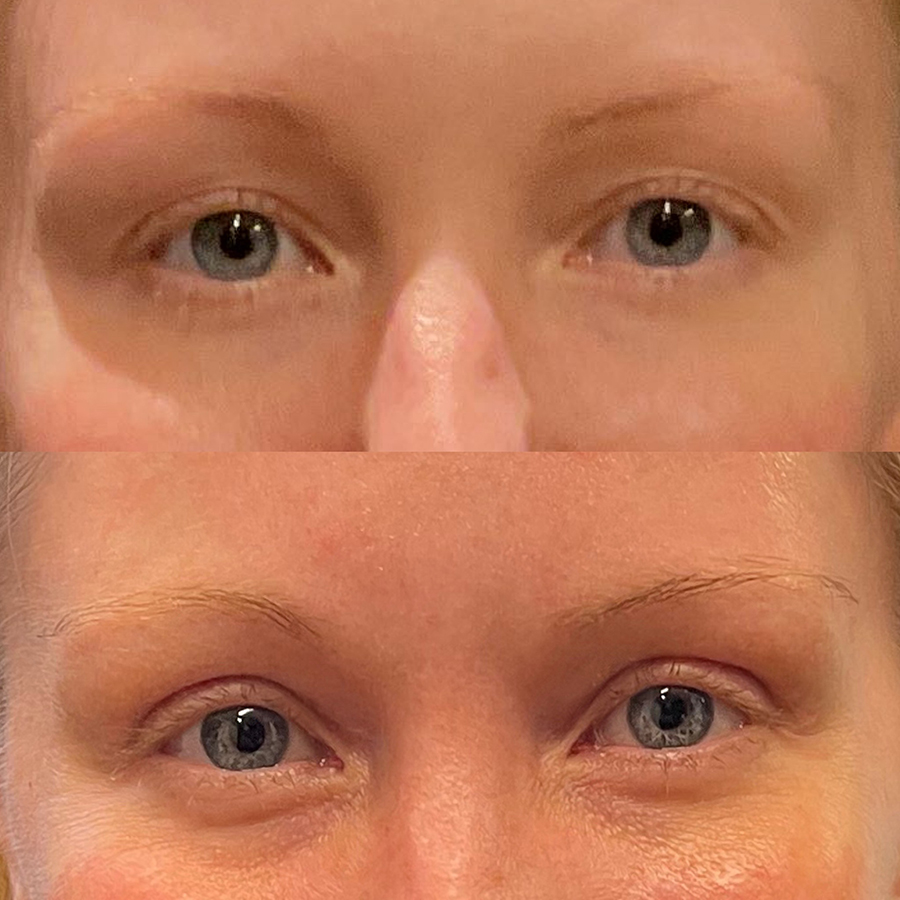 Description:
Upper lid blepharoplasty. Short term follow-up (less than one month). Looks refreshed, vibrant, younger and natural.
---
Neck Contouring 01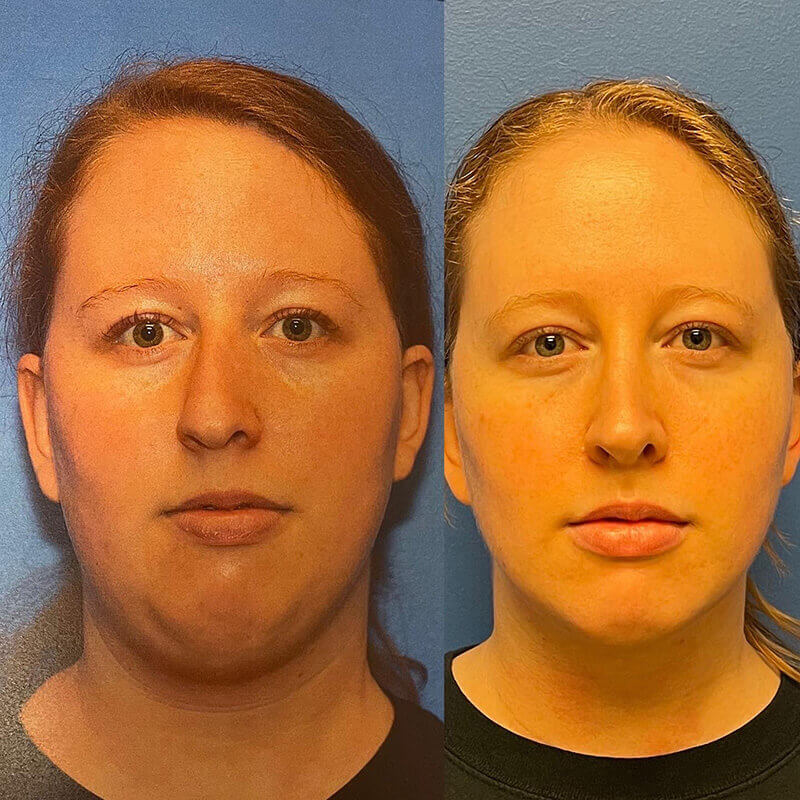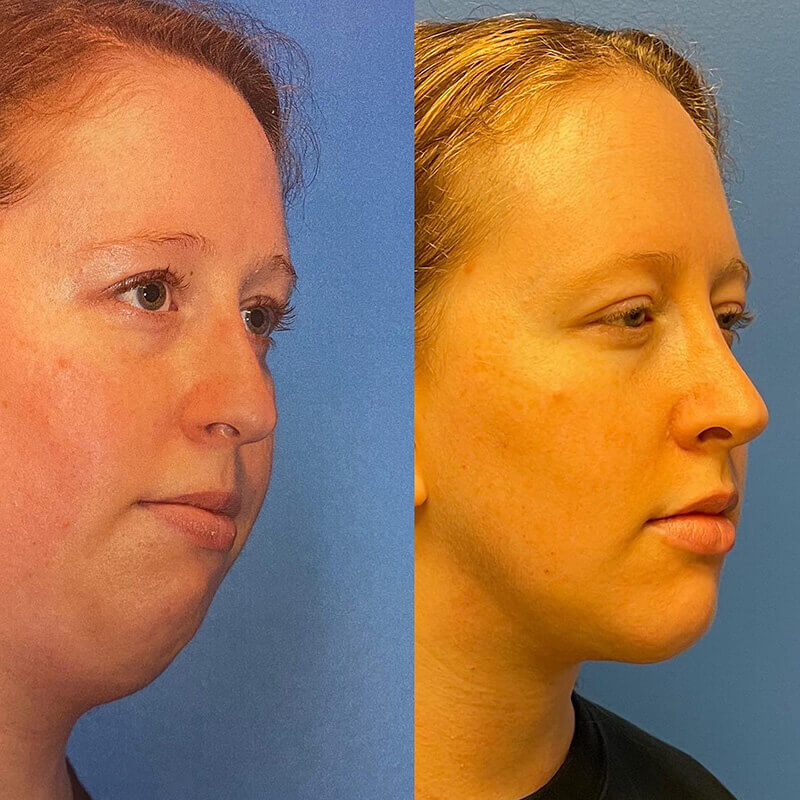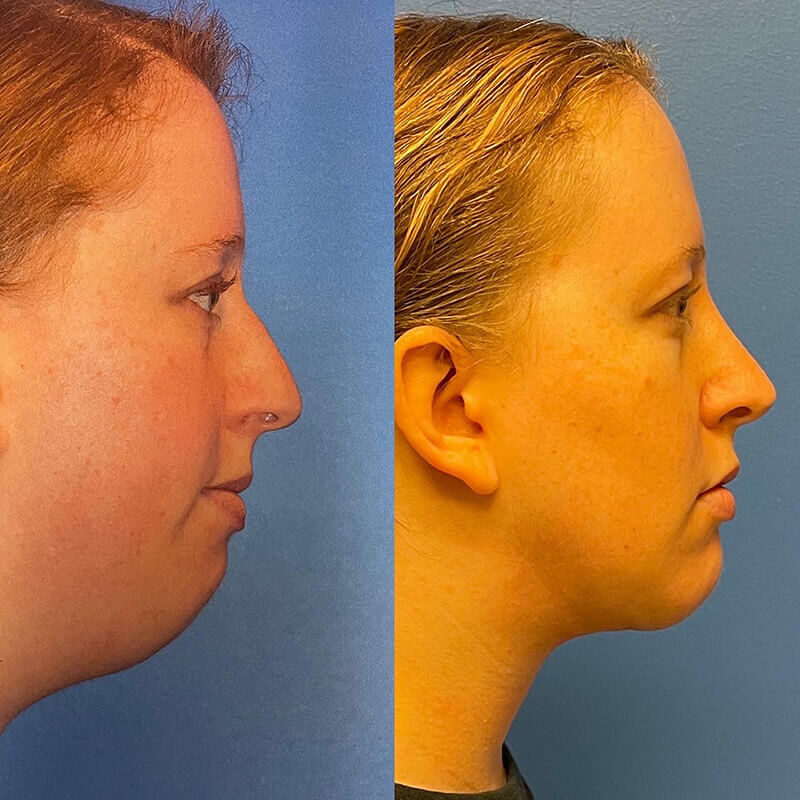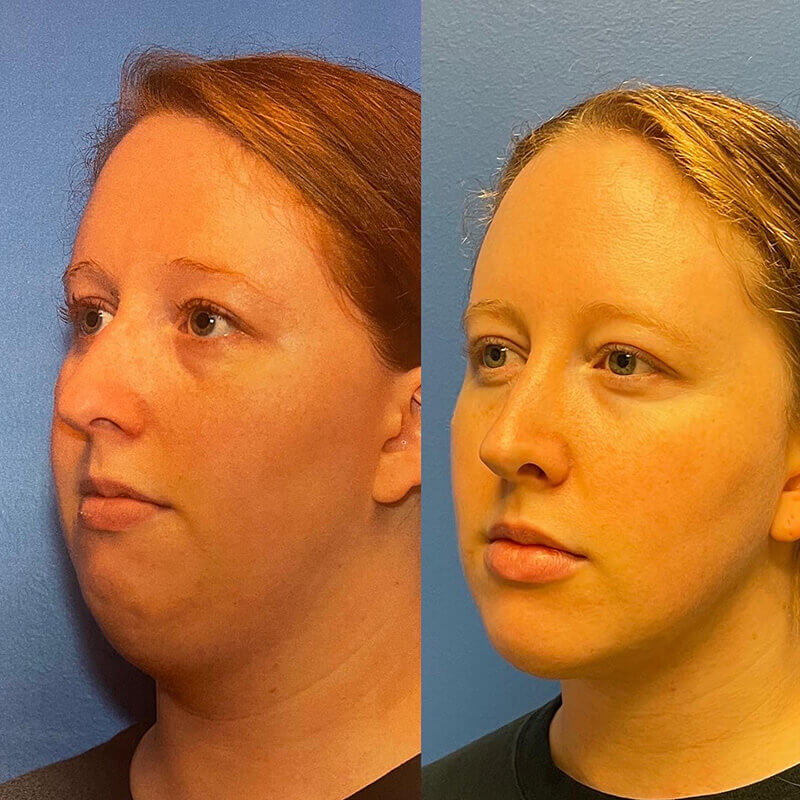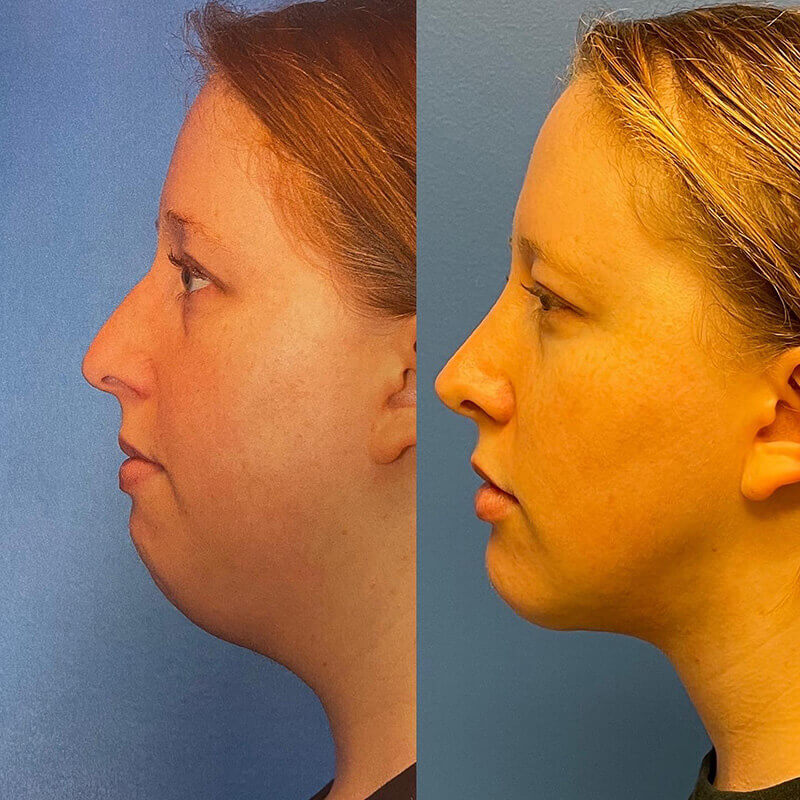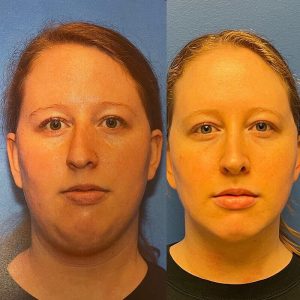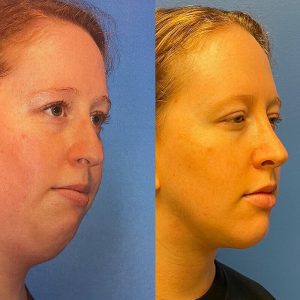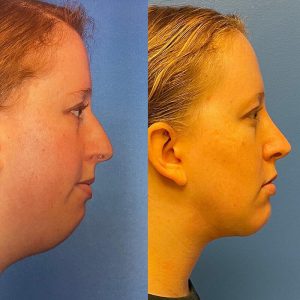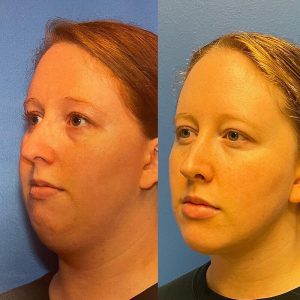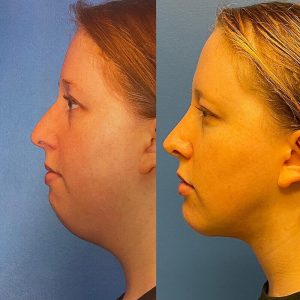 Neck Contouring 02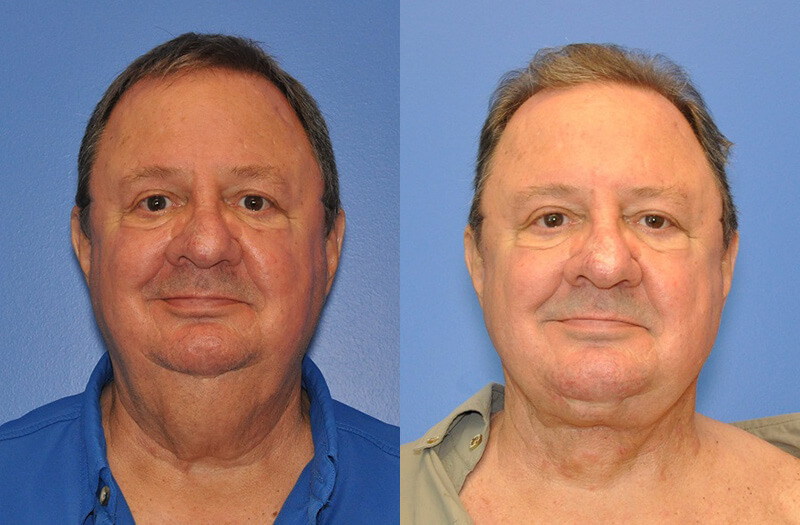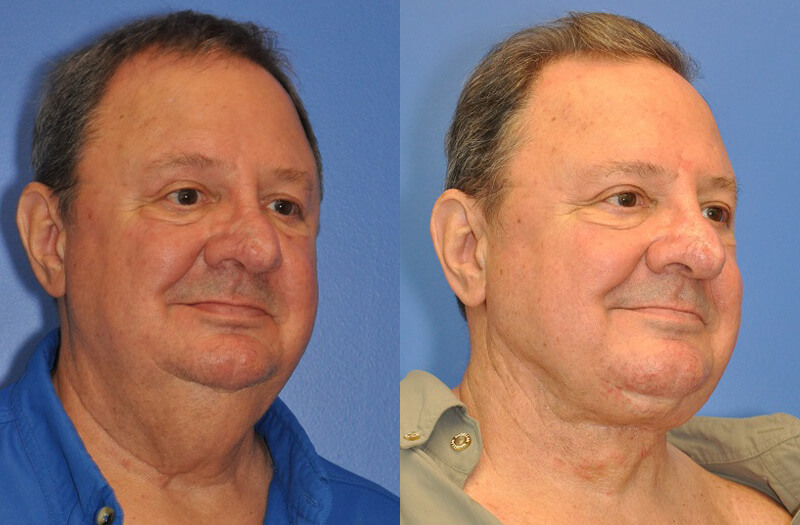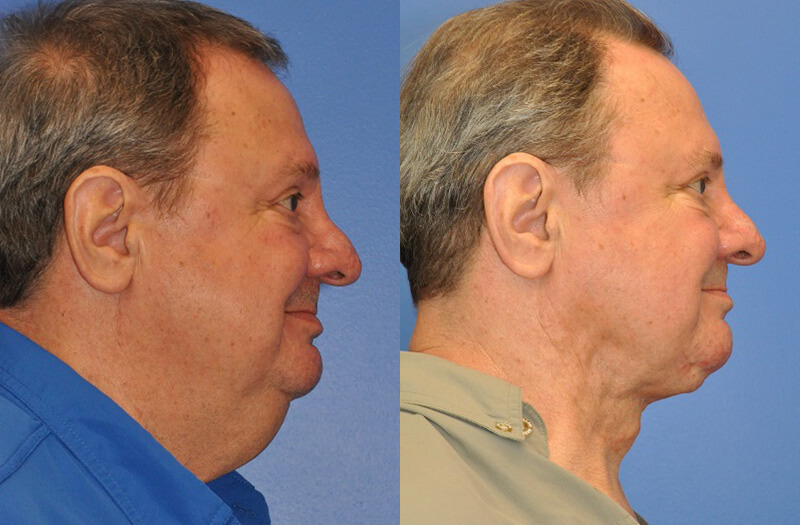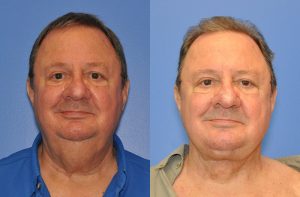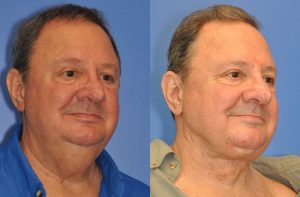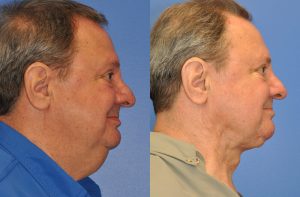 Description:
Liposuction and T-Z plasty in 65 year old man
---
Revision Rhinoplasty 02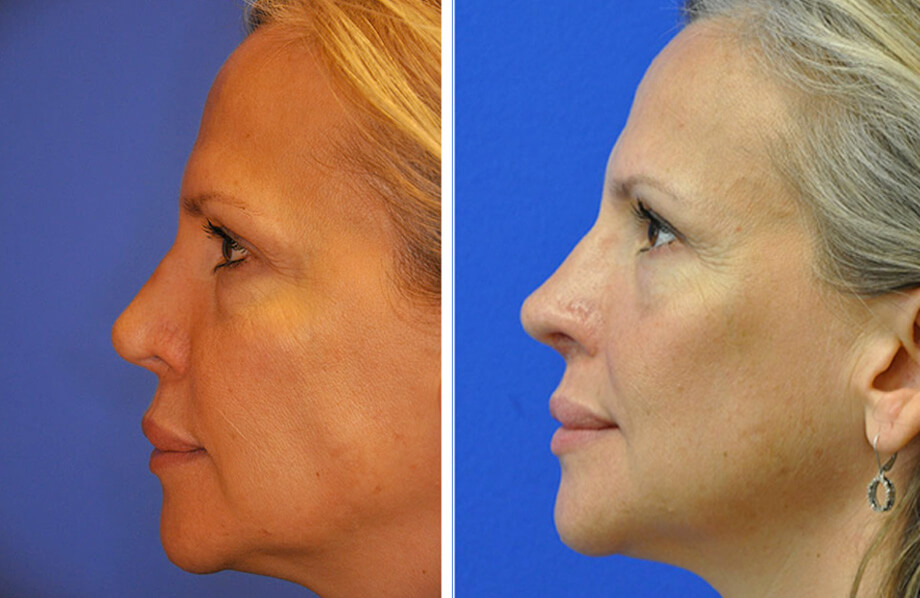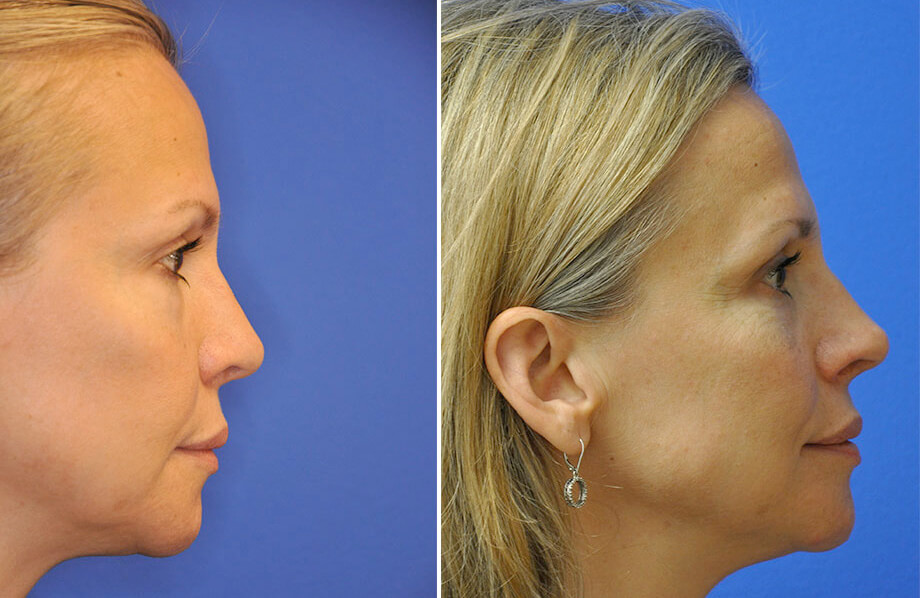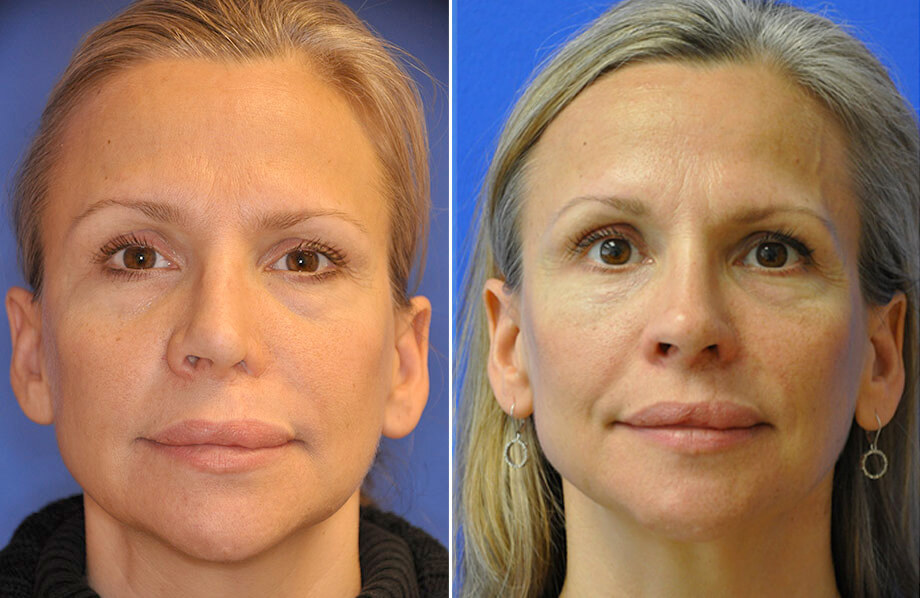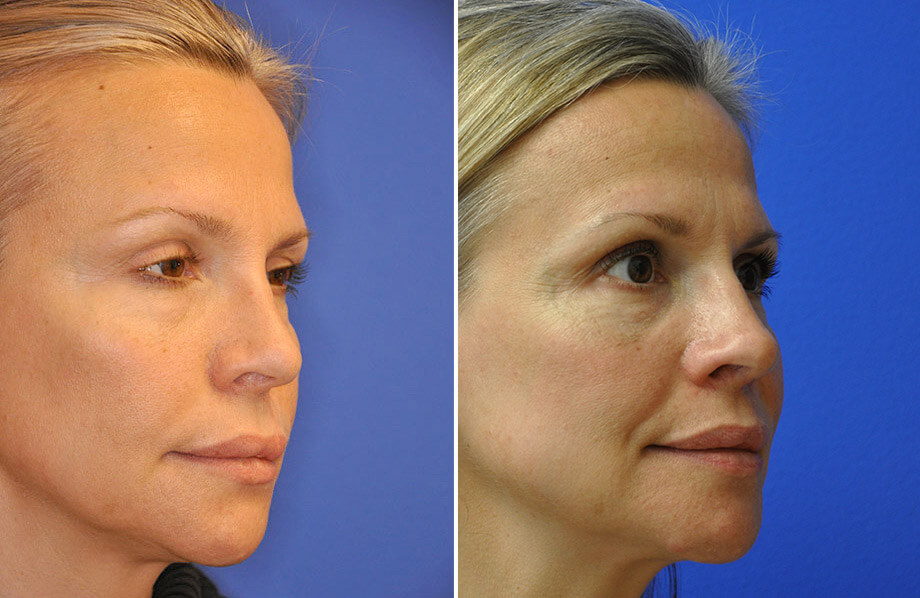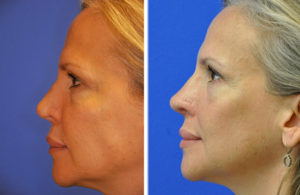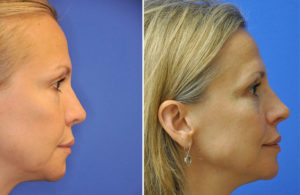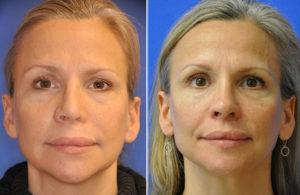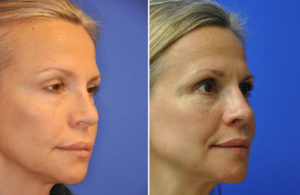 Description:
Description:
Special Note: Cleft Rhinoplasty
Technique:
Stage 1 – Iliac Crest Bone Graft to Pyriform Aperture and Skin Graft to lining of Left Ala (nostril)
Grafts – Pyriform Aperture, Alar Lining
Source – Iliac Crest
Stage 2 – Revision Rhinoplasty with Costal (Rib) Graft
Graft Types – Bilateral Spreader, Columellar Strut , Lower Lateral Crus Batten, Bilateral Alar Rim
Graft Source – Costal Cartilage (Rib)
Patient Story
This patient is a mid-Forties school teacher from Austin Texas who was referred to Dr. Weinfeld by an ENT colleague who refers Dr. Weinfeld patients with complex nasal breathing problems and rhinoplasty challenges. She had difficulty breasting due to collapse of the left side of her nose and septal deviation and desired improvement in the appearance. Her case was complex due to the face that she had a nasal deformity related to her past history of cleft lip and had a prior rhinoplasty by another Plastic Surgeon. Owing to his experience in advanced pediatric and adolescent cleft nose surgery at Dell Children's Medical Center, Dr. Weinfeld felt that the best a way to achieve the patient's goals would involve a two stage approach. In the first stage an iliac crest bone graft placed at the left side of the pyriform aperture was used to support the left ala bringing it more forward and a skin graft was placed in the left ala lining to help release the scarred and contracted tissues. In the second stage the patient's rib own cartilage was used in an open revision rhinoplasty to rebuild the structure of the nose improving the function and appearance. Of special note to restore more normal contours to the cleft (left) side a lower lateral crus batten graft constructed from rib cartilage was used to strengthen the native cartilage that was abnormal due to the cleft and damaged due to the prior rhinoplasty. She has been very happy with her results.
---
Facelift 02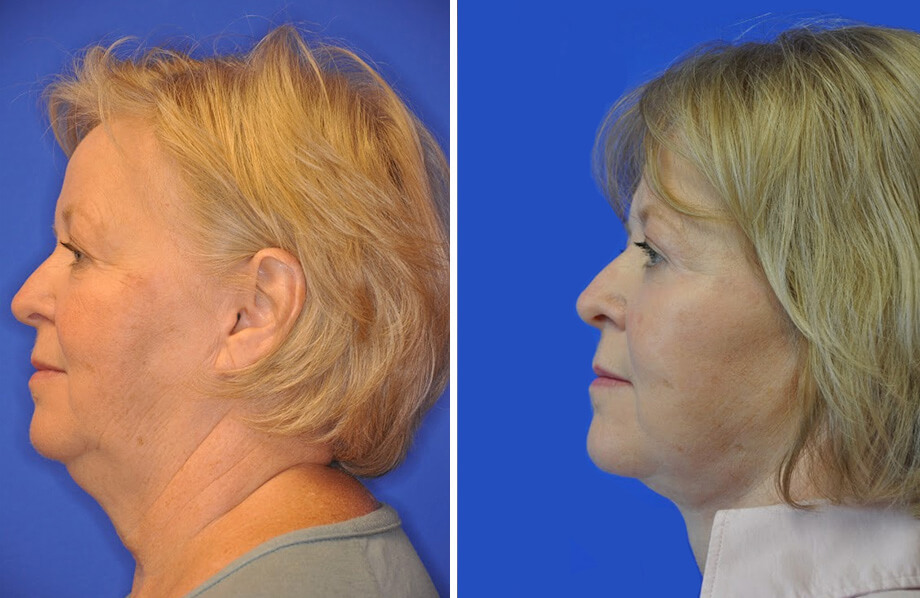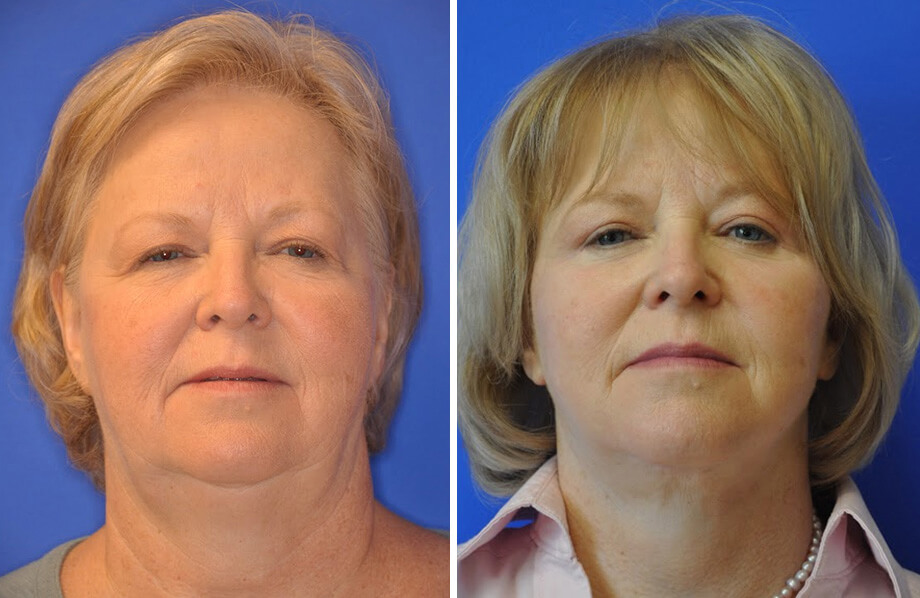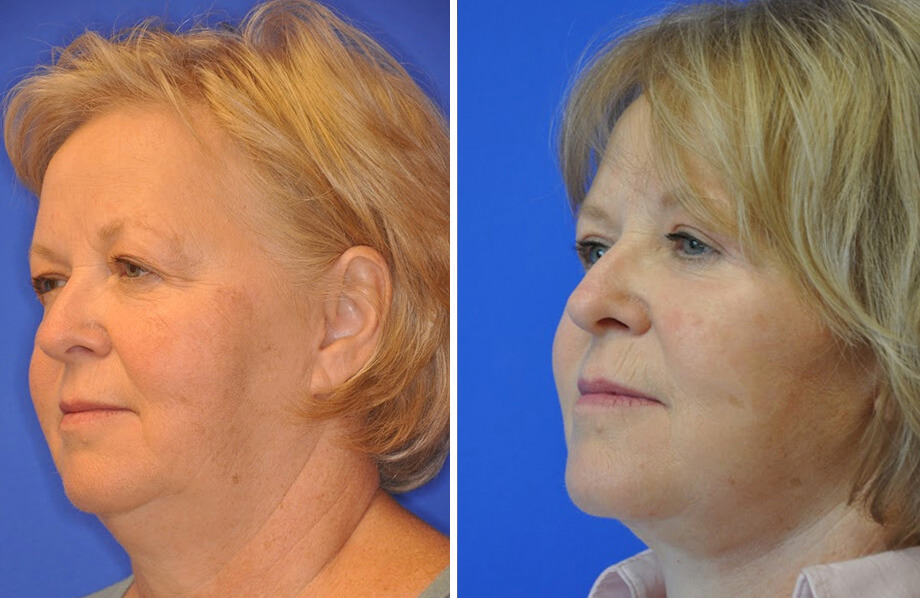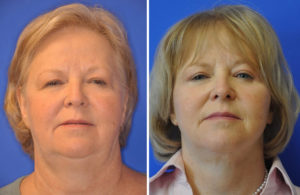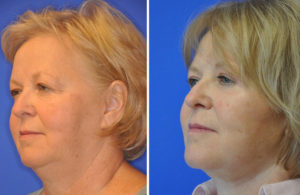 Description:
Description:
Improvement Focus:  Excess upper eyelid skin, lower eyelid bags, cheek decent with jowls, obtuse angle between face and neck with loose skin.
Technique: Cervicofacial Rhytidectomy (Face Lift, Neck Lift), Sub SMAS Dissection and Flap, Platysmaplasty, Upper and Lower Lid Blepharoplasty
Patient Story:
This patient is a woman in her late fifties who is the wife of a senior hospital administrator in Austin, Texas.  She was interested in comprehensive cosmetic facial rejuvenation.  Following her consultation with Plastic Surgeon Dr. Weinfeld, she felt the best approach for her was two-stage process.  First she underwent an upper and lower blepharoplasty.  The lower blepharoplasty was performed with a subciliary approach permitting septal reset and blending of lid cheek junction.  This advanced approach provides more than just lower lid smoothing.  It permits elevation of the upper cheek, softening of the nasojugal crease, and a decreased vertical dimension of the lower eyelid – all features associated with youth and attractiveness.  Following three months she underwent and facelift and necklift.  In the majority of patients, but especially in patients with full faces and necks, Dr. Weinfeld choices to use direct sculpting of the lower face and neck fat instead of using liposuction which can be less  precise.  The powerful effect of direct sculpting can be seen in her post-operative photos.
---
Rhinoplasty 02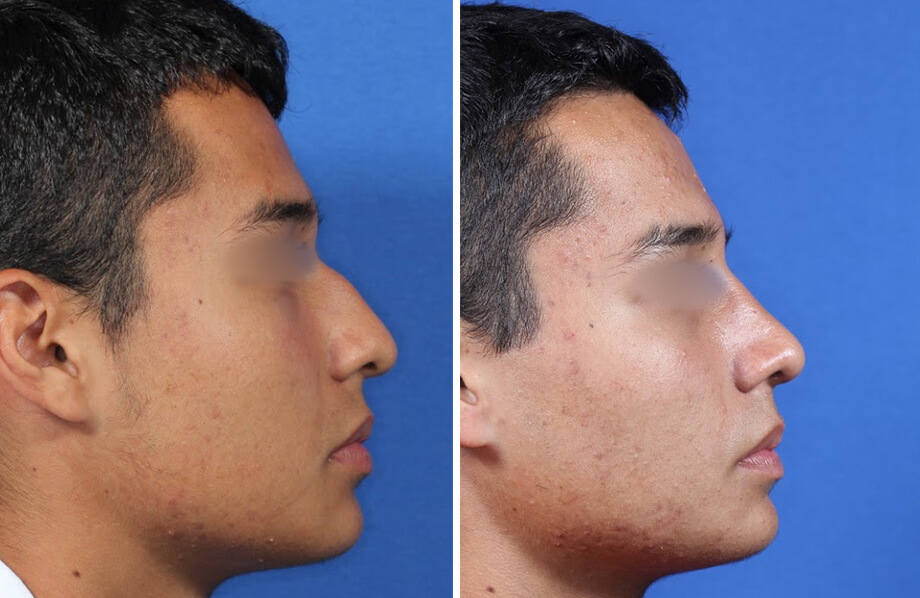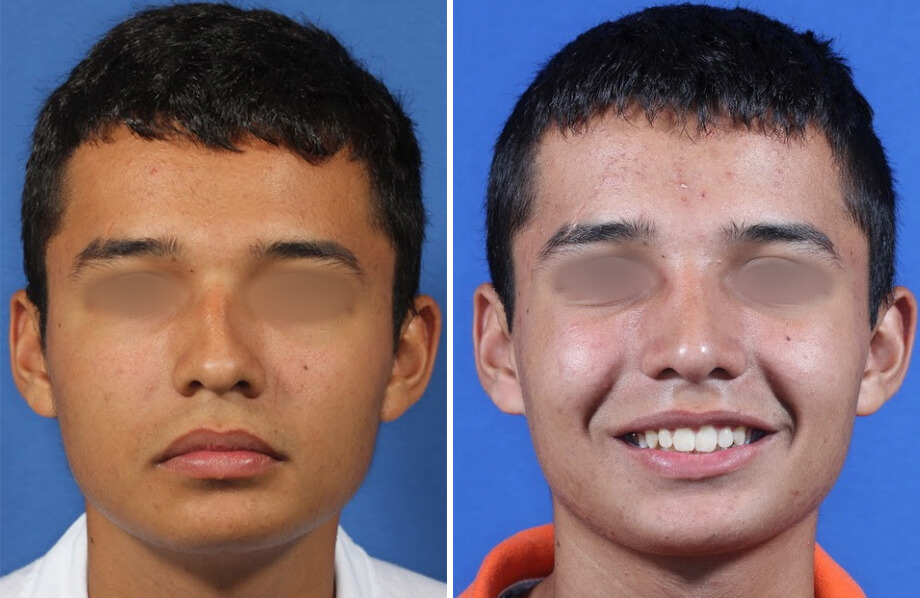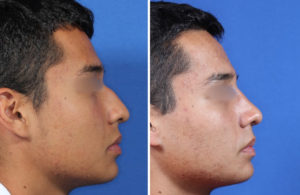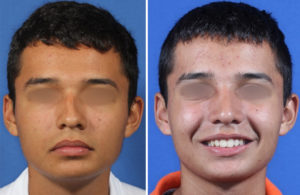 Description:
Description:
Improvement Focus: Dorsal Hump / Bump, Tip Shape, Uneven Dorsal Aesthetic Lines
Technique: Open Rhinoplasty
Graft Types: Bilateral Spreader, Columellar Strut, Sub-Domal, Bilateral Alar Rim
Graft Source: Septal Cartilage
Patient Story: This patient had injured his nose playing soccer. He wanted cosmetic improvements to his nose and also needed to breathe more efficiently through his nose. He underwent surgery where both issues were addressed.
---
Neck Contouring 03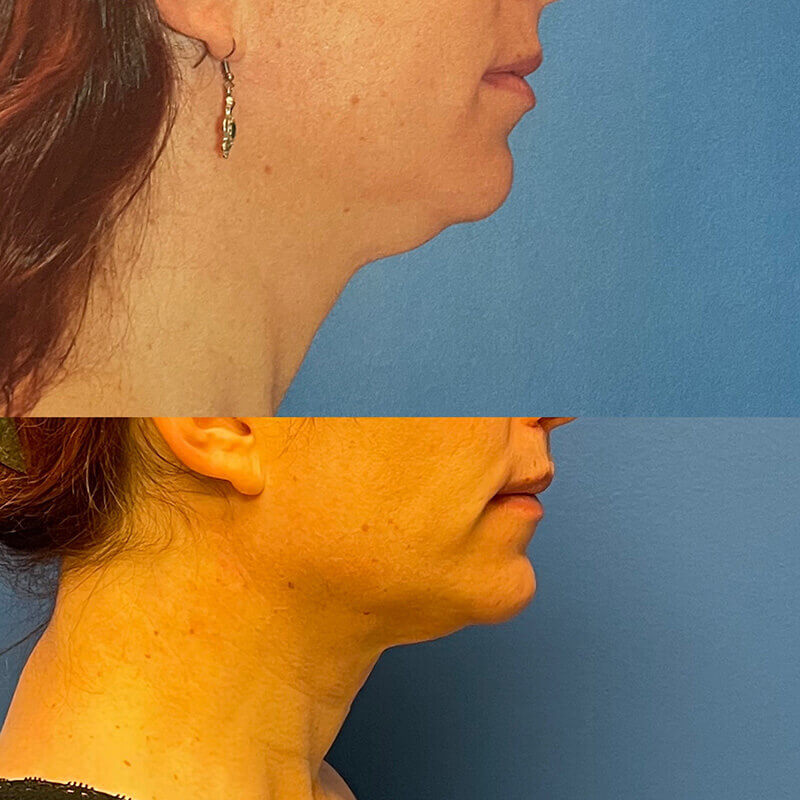 Description:
Neck contouring with liposuction: This woman underwent liposuction of the submental region and neck. The liposuction improved neck contours. In combination with the buccal fat pad reduction the liposuction has created the appearance of weight loss and has improved visualization of the jaw bone contours. Liposuction of the neck can create significant improvements and in younger people may be all that is required to improve the appearance. This woman is an example of how the improvement is profound, however it is not perfect. Some loose skin is visible and there is still some fullness to the overall contours. She is interested in having a neck and facelift in several years, but for now the neck liposuction has brought considerable satisfaction and has deferred those more involved procedures for now.
---
Get In Touch
Patients respond to Dr. Weinfeld's expertise and caring patient focused approach. If you have any questions about a procedure or are ready to schedule a consultation, please call or fill out the form below.
---
---
Address
This facility is only for cosmetic and non-insurance based procedures. If you seek insurance based treatments or reconstructive procedures, please search for Dr. Weinfeld in his other facility.
Phone: 512-559-1376
---
Connect with us