Revision Rhinoplasty 02
Back To Revision Rhinoplasty Gallery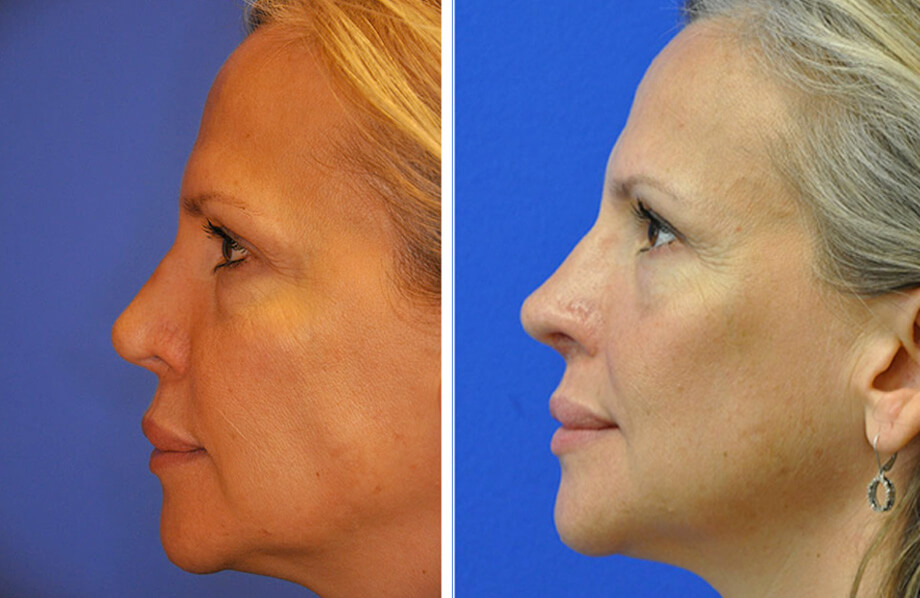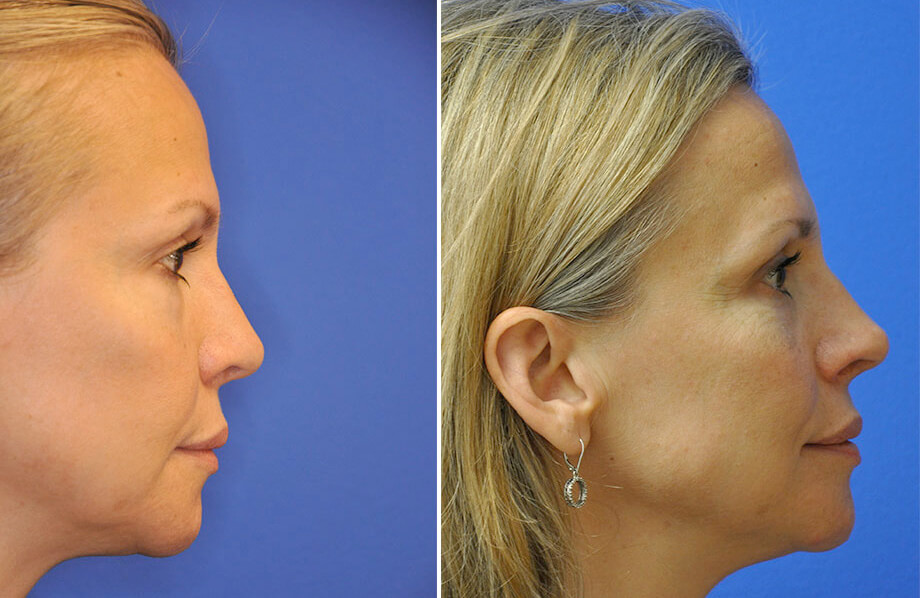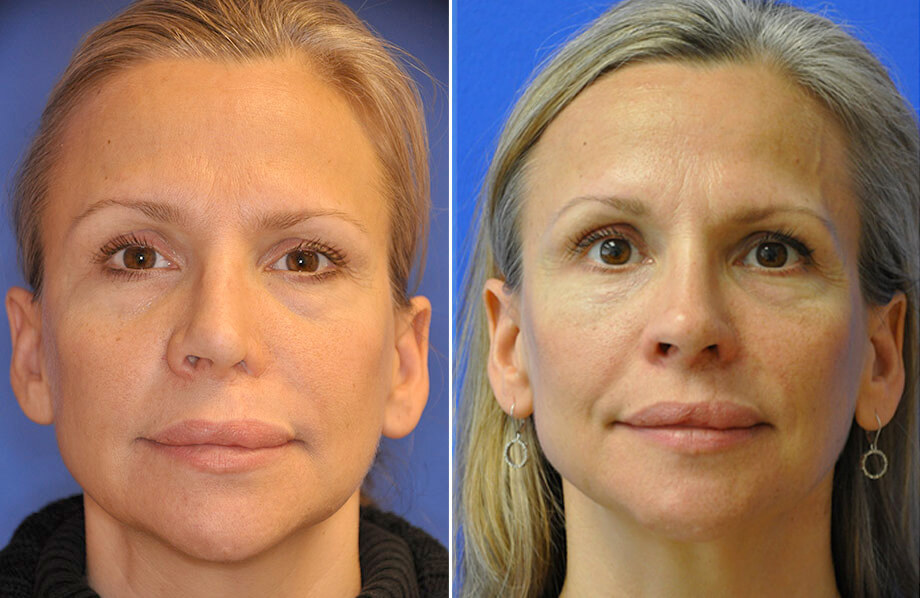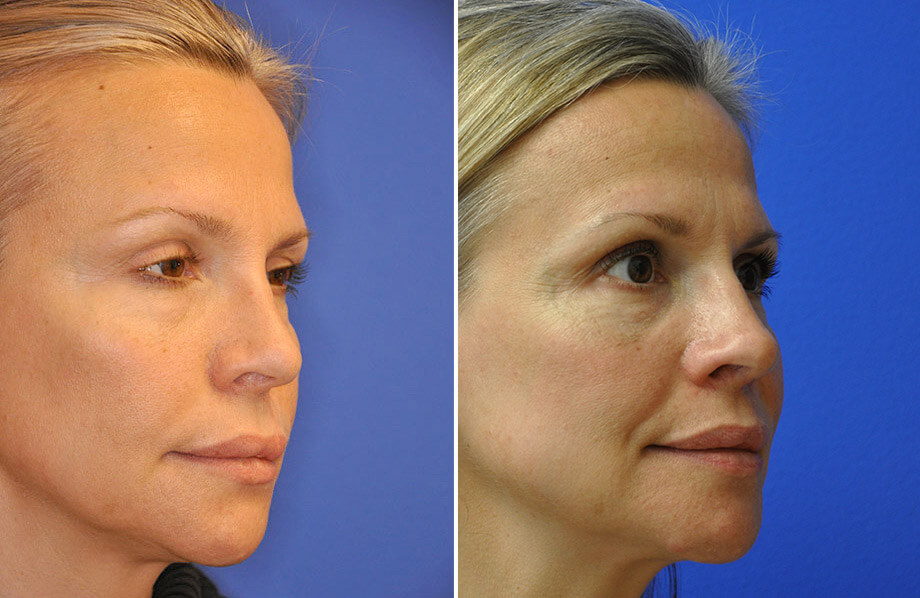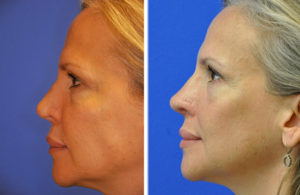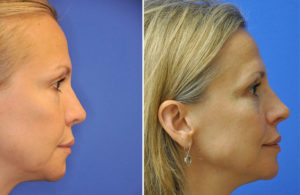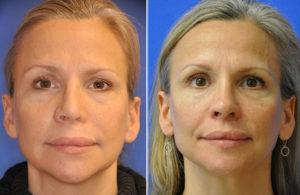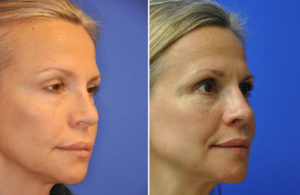 Description:
Description:
Special Note: Cleft Rhinoplasty
Technique:
Stage 1 – Iliac Crest Bone Graft to Pyriform Aperture and Skin Graft to lining of Left Ala (nostril)
Grafts – Pyriform Aperture, Alar Lining
Source – Iliac Crest
Stage 2 – Revision Rhinoplasty with Costal (Rib) Graft
Graft Types – Bilateral Spreader, Columellar Strut , Lower Lateral Crus Batten, Bilateral Alar Rim
Graft Source – Costal Cartilage (Rib)
Patient Story
This patient is a mid-Forties school teacher from Austin Texas who was referred to Dr. Weinfeld by an ENT colleague who refers Dr. Weinfeld patients with complex nasal breathing problems and rhinoplasty challenges. She had difficulty breasting due to collapse of the left side of her nose and septal deviation and desired improvement in the appearance. Her case was complex due to the face that she had a nasal deformity related to her past history of cleft lip and had a prior rhinoplasty by another Plastic Surgeon. Owing to his experience in advanced pediatric and adolescent cleft nose surgery at Dell Children's Medical Center, Dr. Weinfeld felt that the best a way to achieve the patient's goals would involve a two stage approach. In the first stage an iliac crest bone graft placed at the left side of the pyriform aperture was used to support the left ala bringing it more forward and a skin graft was placed in the left ala lining to help release the scarred and contracted tissues. In the second stage the patient's rib own cartilage was used in an open revision rhinoplasty to rebuild the structure of the nose improving the function and appearance. Of special note to restore more normal contours to the cleft (left) side a lower lateral crus batten graft constructed from rib cartilage was used to strengthen the native cartilage that was abnormal due to the cleft and damaged due to the prior rhinoplasty. She has been very happy with her results.
---
Get In Touch
Patients respond to Dr. Weinfeld's expertise and caring patient focused approach. If you have any questions about a procedure or are ready to schedule a consultation, please call or fill out the form below.
---
---
Address
This facility is only for cosmetic and non-insurance based procedures. If you seek insurance based treatments or reconstructive procedures, please search for Dr. Weinfeld in his other facility.
Phone: 512-559-1376
---
Connect with us