Is It Possible for a Facelift to Rewind the Clock Without Looking Fake?
June 11, 2022 | Facelift
5 Minute Read:
As you get older, your facial skin will lose elasticity. Unfortunately, this can cause it to develop fine lines, wrinkles, sagging cheeks, and jowls, all of which contribute to an older and more tired look.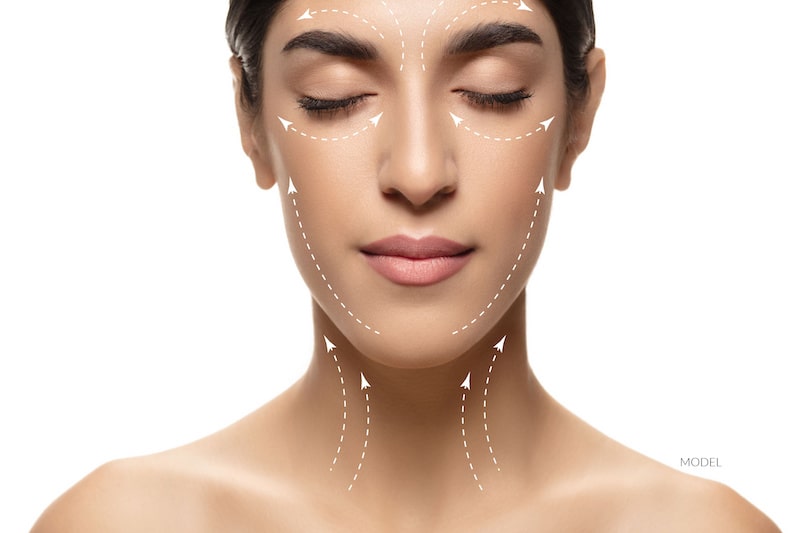 The good news is that you can help correct this issue and turn back the clock by going for a facelift with neck lift surgery. This procedure will lift and tighten facial tissues to give you a more youthful appearance.
While you may be hesitant to undergo surgery on your always-exposed face, you can improve the possibility of getting natural-looking results from the procedure by choosing a highly skilled plastic surgeon relying on advanced facelift surgery techniques.
Dr. Adam Weinfeld places a strong focus on facial plastic surgery — including facelift surgery — at his Austin, Texas, practice and looks forward to meeting you.
How Effective Is Facelift Surgery?
If you would like to rejuvenate your facial appearance and look younger and more attractive, there are several facial cosmetic procedures you can choose. These include eyelid and brow lift surgery, rhinoplasty (nose surgery), and facial fat grafting.
However, none of these procedures address a facial area quite as large as facelift surgery.
Facelift surgery is one of the most popular cosmetic plastic surgeries performed today. This popularity is mainly because:
1) Many people share the concerns addressed with facelift surgery
2) The procedure works
Facelift results are not only dramatic but also long-lasting.
On average, facelift surgery should help "rewind the clock" by between 8 and 10 years (however, every patient is different). Although the procedure does not stop the natural aging process, it is extremely effective in giving patients a more youthful appearance.
After the procedure, you can expect the results to last for about a decade before the new signs of aging become more noticeable.
It should also be noted that almost all facelifts include a neck lift. Likewise, many procedures referred to as neck lifts also address facial aging.
If this distinction seems confusing, Dr. Weinfeld can help you decide what specific procedure best addresses your anatomy and desired result.
Additionally, procedures such as eyelid surgery, brow lifts, fat grafting, and chin surgery can also be done at the same time as a facelift and neck lift to address other facial areas of concern.
Should I Be Afraid of Unnatural Results
Although facelift is still the gold standard of facial rejuvenation techniques, some people may still feel deterred from it due to its history of sometimes producing unnatural results.
While these concerns could have been justified in the past (where older face lifting techniques were used), facelift surgery techniques, like other cosmetics procedures, have evolved, and you can now seek facelift surgery with confidence, knowing that you will get long-lasting, natural-looking results.
In previous decades, surgeons didn't have access to the advanced equipment or technology they now do. Additionally, many surgeons didn't understand the importance of tightening the underlying facial tissues and muscles. Instead, they simply stretched the skin — sometimes in the wrong directions — without thinking of the muscles and fat beneath. It was techniques like this that led to the once "windblown" or "wind tunneled" facelift appearance.
Fortunately, those days are gone.
As long as you pick the right plastic surgeon, you can feel confident that you will achieve a more youthful appearance, and the people you meet will not realize that you had plastic surgery unless you decide to tell them.
Other Interesting Facts
Most patients report less discomfort than they expected
Many people return to work and social interactions at or even before 2 weeks from surgery
Normal exercise routines can often be restarted between 2 and 3 weeks
People, both women and men, undergo facelifts at ages as young as 40 years old and at ages 80 years old or older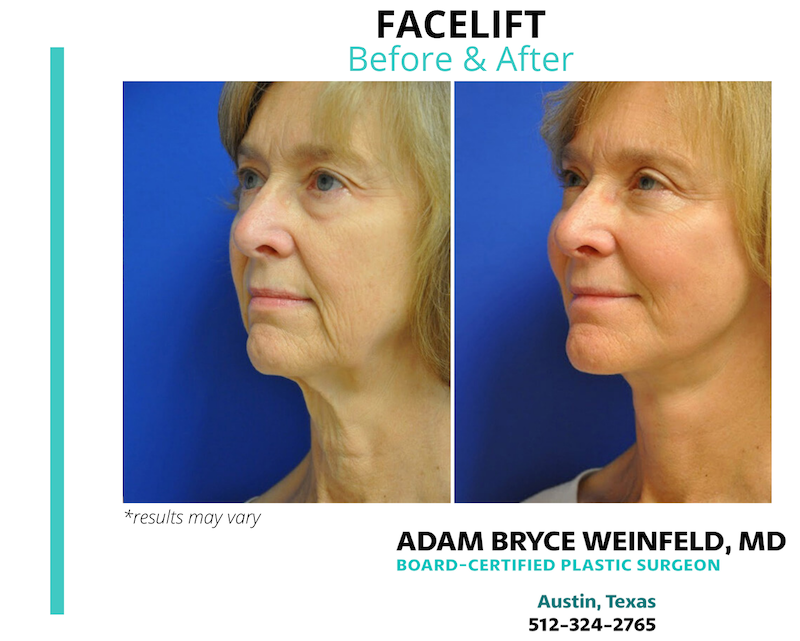 Visit our facelift before-and-after photo gallery to see more transformations.
Tips for Choosing the Right Plastic Surgeon for Facelift Surgery
The kind of results you get from your facelift surgery will largely depend on the plastic surgeon you pick.
As such, you need to consider several factors.
In addition to ensuring that your surgeon is board-certified, you need to be certain that they have been performing facelift surgeries for several years.
You also need to ensure that your surgeon has a reputation for consistently delivering natural-looking facelift results.
Before you can settle for a particular plastic surgeon, you should ask them to show you before-and-after photos to have a rough idea of what you can expect from the procedure.
Interested in Learning More About Facial Rejuvenation in Austin?
If you would like to rejuvenate your face and achieve a more youthful appearance, facelift surgery is often the best plastic surgery procedure to have.
If the procedure is performed correctly using modern techniques, you will have a significant chance of getting natural-looking, long-lasting results.
If you are looking for a dependable plastic surgeon to perform your facelift surgery and help you achieve natural-looking results, Dr. Weinfeld is an excellent choice.
In addition to having advanced training in facial cosmetic surgery, he has many years of experience making patients happy with natural facelift and necklift results. Contact his practice at 512-334-9917 for more information about what facelift surgery entails.
The information presented here is intended for education. Some patients' experiences are different. Results are variable and often determined by a patient's specific anatomy. In Dr. Weinfeld's experience, the overwhelming majority of patients are extremely happy with their outcomes and would recommend the procedure to a friend or family.